I am honored to present Tropicalia's 2018 Sustainability Report. A decade ago, we embarked on a journey to support sustainable development in the municipality of Miches, located in El Seibo province on the northeast coast of the Dominican Republic, by creating a new kind of luxury destination — one that is in balance both with nature and with the local community. The 10-year anniversary of Fundación Tropicalia reaffirms our sustained commitment to this vision.
As people around the world are becoming increasingly aware of human impacts on the environment, I am more convinced with every passing year that we have the opportunity to improve the health of our planet and its inhabitants by changing the way we do business. At Tropicalia, we welcome the opportunity presented by the United Nations Sustainable Development Goals (SDGs) to make our contribution to the global development agenda and are ever more committed to pioneering a new kind of sustainable tourism in the Caribbean and the world. As CEO of Cisneros, I am thrilled by our progress, humbled by the challenges that lie ahead and excited for the future, as we strive to create one of the most sustainable luxury resorts in the world.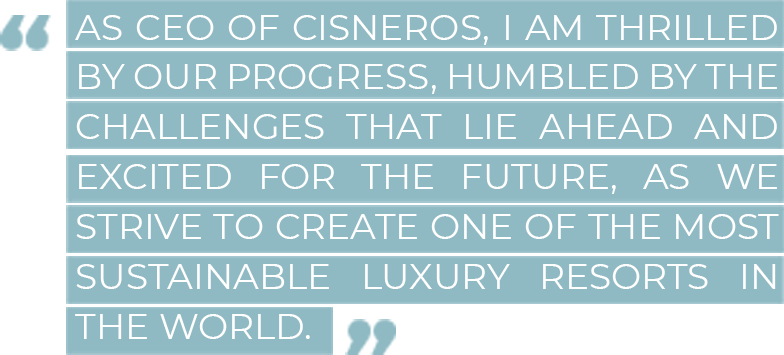 Since our last annual sustainability report, the International Finance Corporation (IFC), a member of the World Bank Group, and IDB Invest, a member of the Inter-American Development Bank (IDB) Group, have partnered to provide Cisneros Real Estate with $119.5 million in financing for Tropicalia. We anticipate the project will create 1,800 jobs during construction, 500 jobs during operations and an inclusive supply chain that will link dozens of local entrepreneurs and farmers to hotel and tourist demand. Eventually, the hotel will source up to 70% of its food from the Dominican Republic, with more than a third coming from producers in Miches and neighboring communities.
Over the past decade, Fundación Tropicalia has implemented dozens of high-impact, innovative programs in Miches that range from improving education to environmental conservation, responsible productivity, and cultural preservation. These actions serve to lay the groundwork for a more sustainable and inclusive tourism industry that generates benefits for all. In the ten years since Fundación Tropicalia began, we have invested over US$5.1 million in the local community and registered approximately 10,940 participations in our programs, serving more than 1,000 beneficiaries annually.
Children are the future of Miches, and sustainable development depends on the quality of their education and the protection of their rights. Fundación Tropicalia's education and gender programs support these objectives by providing administrative and career support to educators, while simultaneously working directly with children via complementary education programs and our all-girls summer camp, Soy niña, soy importante (SNSI, I'm a Girl, I'm Important). This last project is our flagship program to contribute to the advancement of SDG 5 "to achieve gender equality and empower all women and girls." In 2018, a total of 302 girls and 82 volunteers participated in more than 16 talks and workshops aimed at empowering young girls to dream big. Our support for local education also reached a new high, with a total of 16 schools in our PRyME network, with 3 scholarships granted in 2018, and 1 internship offered to agricultural engineering majors at Estancia La Querencia in Miches.
Worldwide, coastal areas are the most common tourist destination, and markedly so in the Dominican Republic. This brings an economic growth opportunity but implies an increased need for the thoughtful development of resources, infrastructure, and services. As travel and tourism revenue increases in the Dominican Republic, so too has Miches experienced growth in public and private sector investment, resulting in increased tourism and infrastructure investments that include hotels, new roads, and highways that connect Miches to the Punta Cana Airport and surrounding areas.
Tourism is a key pillar of the Dominican economy and has continued to increase each year, experiencing a record high of 6.2 million visitors in 2017, an outstanding 6.8% increase from the previous year. The Dominican government has set a national objective of 10 million visitors per annum by 2020, with an estimated revenue of over US $7 billion. Including jobs indirectly supported by the industry, 696,500 jobs were supported in 2018, and this will rise by an estimated 1.6% per annum to 814,000 jobs by 2028 (15.7% of total).
Yet, climate change presents a real threat to this sector with the increase in intensity and frequency of natural events like droughts, hurricanes, and storms. At Tropicalia, we account for these issues in our design and architecture; but, we also seek consistency amongst actors to support a sustainable tourism model in Miches that will conserve, restore and protect the natural character of this luxury resort destination for future generations.
In accordance with UN SDG 15, which is to "protect, restore and promote sustainable use of terrestrial ecosystems, sustainably manage forests, combat desertification, and halt and reverse land degradation and halt biodiversity loss" we rolled out an all-new biodiversity initiative in 2018 to protect native species in six ecosystems and mitigate the effects of eight identified invasive species.
As we continue on our Journey to 2030, we are steadfast in our commitment to the United Nations SDGs as a way to promote positive environmental, social, and economic outcomes. By pioneering the tools and strategies needed to forge a more sustainable tourism sector, Tropicalia is creating a foundation upon which all stakeholders can prosper well into the future.
ADRIANA CISNEROS DE GRIFFIN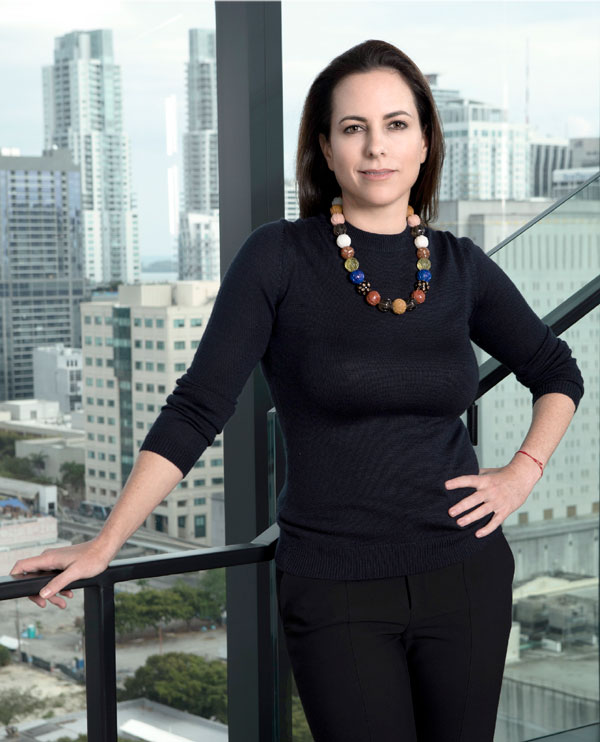 Adriana Cisneros de Griffin
CEO Cisneros